Hey, Hey! Welcome to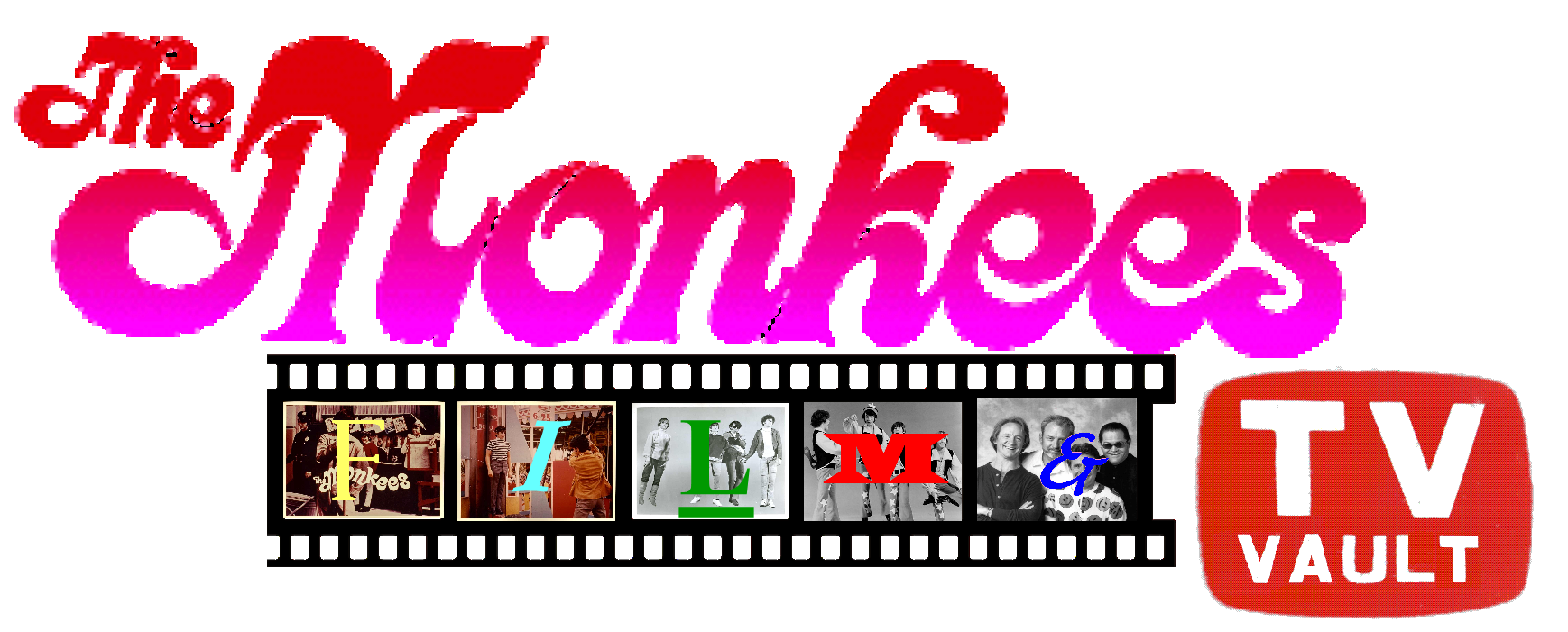 CELEBRATING 40 SYNDICATED YEARS OF THE MONKEES TV SERIES
(SEPTEMBER 8, 1975—SEPTEMBER 8, 2015) Click on trade ads to view a larger size.

THIS WEEK IN MONKEES FILM & TV HISTORY
Epsidoe 4711, "The Chaperone", was preempted on August 18, 1973, at 1:00 PM (EDT) on ABC.
Episode 4754, "Some Like It Lukewarm" (a.k.a. "The Band Contest"), was repeated on August 19, 1968, at 7:30 PM (EDT) on NBC.
Episode 4742, "The Monkees On The Wheel", was repeated on August 19, 1972, at Noon (EDT) on CBS.
Episode 4753, "The Monkees On Tour", was repeated on August 21, 1967, at 7:30 PM (EDT) on NBC.
Episode 4766, "The Card-Carrying Red Shoes", was repeated on August 21, 1971, at 12:30 PM (EDT) on CBS.
Episode 4721, "Find The Monkees" (a.k.a. "The Audition"), was repeated on August 22, 1970, at Noon (EDT) on CBS.
---
FEATURED MONKEES EPISODE OF THE WEEK:

(Updated every Monkee Monday)
Episode No. 52

"The Devil And Peter Tork"

(prod. #4737, aired on NBC February 5 and July 29, 1968)
Originally Sponsored by Yardley Of London™

At a sleazy pawn shop, Peter unwittingly sells his soul to
a devilish character in order to purchase a golden harp.
---
THE MONKEES TV SHOW IS ON CABLE & SATELLITE!
Tune in and turn on to The Monkees TV series every weekend on IFC, FamilyNet and Antenna TV!
Here's the schedule for upcoming Monkees shows this weekend; all times Central and subject to change.
---
THE MONKEES TV SHOW HAS RETURNED TO DVD!
Eagle Rock Entertainment has reissued both seasons of The Monkees TV series on DVD!
Click on either one of the box art to glance at what is exactly included on each set!
---

---
Description Of Site Contents

HERE COME THE MONKEES: The Original 1965 Pilot Episode

All you need to know about the original, unaired pilot for The Monkees television series, filmed in 1965 by Screen Gems as a means to sell the product to both TV networks and sponsors.

VITAL STATISTICS & CREDITS

A complete network and syndication history, Nielsen ratings, commercial sponsors, castmembers, Emmy awards and nominations, AND, included for the first time anywhere, a compleet and full slate of production credits, which covers both seasons!!!

THE FIRST SEASON
(Sept. 12, 1966 to Sept. 4, 1967)

A chart listing all 32 shows from The Monkees television series' sensational Emmy-winning first season on NBC! Each episode is linked to a corresponding individual page, which includes a HQ screenshot of a pivotal scene from the episode (captured from DVDs), original airdates, writers, directors and production crew, guest stars, episode songs, a listing of every home video release it ever had (on VHS, laserdisc and DVD), compleet and detailed synopses, production and trivia notes, filming locations and dates, original commercials which aired, coinciding Colgems album/single release dates, A.C. Nielsen ratings/share, and wherever applicable, production numbers and copyright registration numbers! Included is a list of all the preemptions and repeats and links to episode interview transcripts! (All of the synopses have now been enhanced for further detail, thanks to help from the I Luv The Monkees! Monkees episode guide.)

THE SECOND SEASON
(Sept. 11, 1967 to Sept. 9, 1968)

Much of the same, this time the 26 episodes from the surrealistic second season on The Peacock Network!

HEAD (COLUMBIA, 1968)

The entire dope on The Monkees' sole motion picture outing! Includes a complete slate of cast & crewmembers, shooting and premiere dates, a compleet synopsis of the whole movie, and trivia and production notes!

THE TV SPECIALS

Incudes everything on both of The Monkees' television specials: 1969's 33 1/3 Revolutions Per Monkee and 1997's Hey Hey It's The Monkees!

MONKEE VIDEOS

A detailed history of The Monkees film & TV releases on home video, on VHS, laserdisc and digital video disc (DVD), from 1986 to current!

THE COMMERCIALS

Transcripts of original broadcast commercial sponsor tags of The Monkees hawking Kellogg's Rice Krispies Cereal, Kool-Aid Soft Drink Mix, and Yardley Black Label Aftershave! Includes a link to a page bearing lyrics to all of the jingles and WAV files to the commercials and jingles, and also a transcript of the 1995 Pizza Hut Commercial featuring Ringo Starr!

SELECTED BIBLIOGRAPHY / ACKNOWLEDGEMENTS

A number of literary Monkees sources employed by the author in crafting this very webpage. Also included is a list bearing thanks to those who assisted me in making said page the page it is today.

SATURDAY AFTERNOON REPEATS

A compleet chronological listing of all 58 Monkees shows as originally seen on CBS and ABC Saturday Afternoons!

MONKEES LINKS

A listing of links to other Monkee pages, divided in 3 columns (offical, film/TV and music/group-oriented Monkees pages).

MONKEES WEB RINGS

A listing of webrings in which this site is featured...and for you to join, too!

AWARDS BESTOWED UPON THE MF&TVV
The awards of which The Monkees Film & TV Vault is a proud recipient.
ORIGIN OF THE MF&TVV

My personal account on how The Monkees Film & TV Vault came to be.

ONSCREEN CAPTIONS

A guide listing all of the humorous captions which flashed on screen in several episodes of The Monkees.

DREAM SEQUENCES, DISGUISES & QUICKCHANGE COSTUME PLAY

A guide listing who did what, what they wore, and what happened in the many hilarious fanstasy sequences in various Monkees segments.

THE MONKEES GO APE FOR BATMAN

Varous cross references to the 1966-68 ABC-TV Batman series (and beyond) on The Monkees.

MONKEES THEMES & PROMOS

Includes WAV files of themes, original promos and trailers, and commercials for The Monkees' film & TV projects.

THE MONKEES ON UK TV

A listing of episodes of The Monkees TV series as shown in The United Kingdom on BBC1 and BBC2 from December 1966 to June 1968.

MONKEES EPISODE PRODUCTION NUMBERS

An appendix (partially in text) of all 58 episodes of The Monkees TV series arranged in chronological production numerical order. (NOW COMPLEET!!!!!!!!!!)

MONKEES EPISODE INTERVIEWS

A listing of transcripts of all 12 original interview segments as seen on The Monkees' TV show, as well as transcripts of David, Michael and Micky's guests from March 1968. (Adapted from Monkees Pad)

THE MF&TVV BLOG

For the latest Monkees news and MF&TVV updates, be sure to check it out!

Click HERE And HERE To Check For Annual Updates!