CELEBRATING THE 55TH ANNIVERSARY OF THE MONKEES' MOTION PICTURE HEAD
(NOVEMBER 6, 1968—NOVEMBER 6, 2023)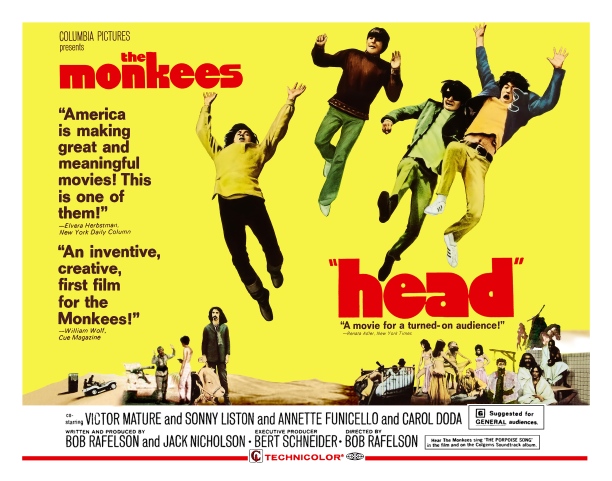 THIS WEEK IN MONKEES FILM & TV HISTORY
JANUARY 29, 1968 — "The Monkee's Paw" (prod. #4740) first aired @ 7:30 p.m. EST on NBC as the 51st episode of The Monkees.
Kellogg's sponsored the show this week, and the songs featured was "Words" written by Tommy Boyce & Bobby Hart, and a brief rendition (and later karaoke version!) of "Goin' Down" written by Diane Hilderbrand, Peter Tork, Michael Nesmith, Micky Dolenz & David Jones; both songs were produced by Chip Douglas.
JANUARY 29, 1972 — "The Monkees At The Movies", Episode No. 31 of The Monkees (prod. #4727, first aired on NBC April 17, 1967), was repeated @ noon EST on CBS.
JANUARY 30, 1967 — "The Monkees In The Ring" (prod. #4734) first aired @ 7:30 p.m. EST on NBC as the 20th episode of The Monkees.
The sponsor of the week was Kellogg's, and the songs featured (produced by Jeff Barry) were "Laugh" written by H. Medress, P. Margo, M. Margo & J. Seigal and "ll Be Back Up On My Feet (Again)" written by Sandy Linzer & Denny Randell.
JANUARY 30, 1971 — "The Picture Frame" (a.k.a. "The Bank Robbery"), Episode No. 34 of The Monkees (prod. #4759, aired on NBC September 18, 1967 and April 1, 1968), was repeated @ 12:30 p.m. EST on CBS.
JANUARY 31, 1970 — "The Son Of A Gypsy", Episode No. 16 of The Monkees (prod. #4724, aired on NBC December 26, 1966 and June 12, 1967), was repeated @ noon EST on CBS.
FEBRUARY 3, 1973 — "The Monstrous Monkee Mash", Episode No. 50 of The Monkees (prod. #4767, aired on NBC January 22 and July 8, 1968), was repeated @ 1:00 p.m. EST on ABC, with a new song added: "Bye Bye, Baby, Bye Bye", written by Micky Dolenz and Ric Klein.
FEATURED MONKEES EPISODE OF THE WEEK
(Updated every Pleasant Valley Sunday)
Episode No. 38
"I WAS A 99-LB. WEAKLING"
(a.k.a. "PHYSICAL CULTURE")

(prod. #4757, aired on NBC October 16, 1967 and July 29, 1968)
Originally Sponsored by Yardley Of London™

To win a beautiful girl, Micky starts a health program under
the guidance of a physical cultist—otherwise known as a fraud.
THE MONKEES - THE COMPLETE TV SERIES IS BACK AGAIN ON BLU-RAY!
---
Rhino Entertainment is re-reissuing THE MONKEES - THE COMPLETE SERIES on High-Definition Blu Ray from 2016, struck from the original 35mm negatives and remastered in stunning HD! The set includes all 58 1966-1968 episodes, the 1969 33⅓ Revolutions Per Monkee TV special, the 1968 cult classic Monkees movie HEAD, never-before-seen HEAD outtakes, original Kellogg's commercials, commentaries and more surprises!
---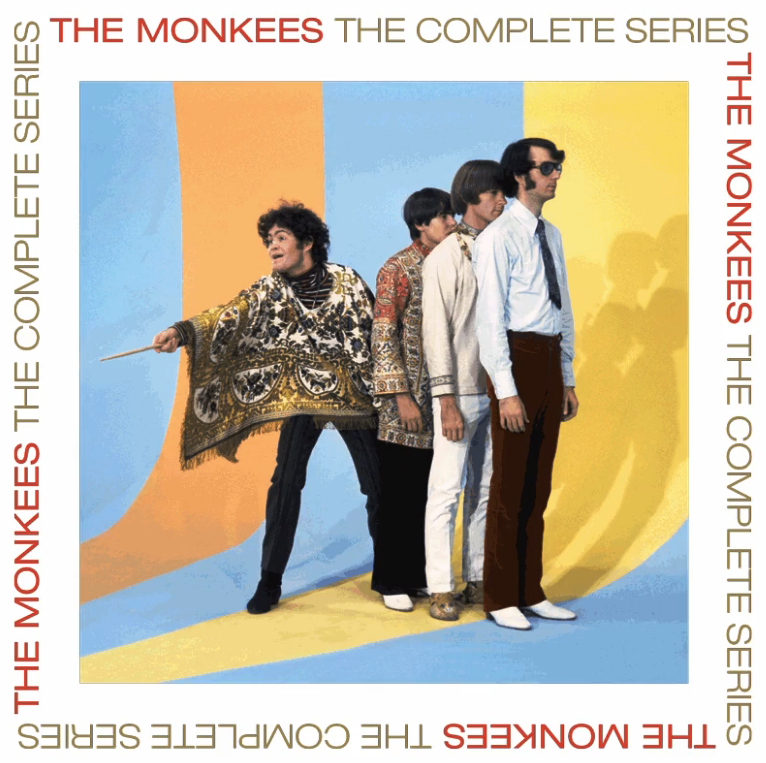 1. All 58 episodes, newly remastered in stunning HD from the original negatives for the very first time, plus the 1969 TV Special "33⅓ Revolutions Per Monkee"
2. Bonus material featuring commentaries from all four Monkees, original Kellogg's Monkees commercials, and more
3. The 1968 Monkees film "HEAD" in HD with never-before-seen outtakes
4. Unique packaging including a 7" featuring "Star Collector" b/w "Goin' Down" in unique TV mono mixes
5. Strictly limited to 10,000 individually numbered sets
6. Only available at Monkees.com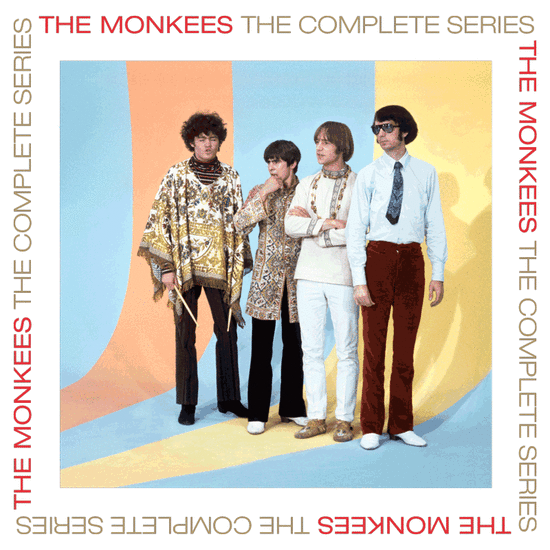 Discs 1-7
• All 58 original, uncut episodes of THE MONKEES, remastered in HD from the original film negatives
• Audio commentary from all four Monkees
• NEW audio commentary from Rodney Bingenheimer, Donna Loren and "Monkee Girl" Valerie Kairys Venet
• Alternate "Saturday morning rerun" versions with 10 alternate songs and mixes
• All in the original glorious mono direct from the film audio mags
Disc 8
• The 1968 movie HEAD, in HD
• Optional DTS-HD Master Audio 5.1 surround soundtrack
• Audio commentary from all four Monkees
Disc 9
• The 1969 NBC television special 33⅓ REVOLUTIONS PER MONKEE, restored from newly discovered video elements
• Audio commentary from Micky Dolenz
Disc 10 - BONUS DISC, AVAILABLE IN THIS STRICTLY LIMITED EDITION ONLY!
• Original screen tests
• Original TV commercial spots featuring The Monkees
• Newly discovered outtakes from THE MONKEES TV series
• Newly discovered color promo film for "Randy Scouse Git" created for TOP OF THE POPS and unseen since its original airing
• Never-before-seen backstage footage of The Monkees at the 1967 Emmy Awards
• Newly discovered outtakes from the movie HEAD
• Newly discovered outtakes from the TV special 33⅓ REVOLUTIONS PER MONKEE
• The Monkees on THE JOHNNY CASH SHOW in 1969
• The Monkees on THE GLEN CAMPBELL GOODTIME HOUR in 1969, including a medley of "Last Train to Clarksville/I'm A Believer/Salesman" and a performance of "Tear Drop City"
• The Monkees on ROWAN & MARTIN'S LAUGH-IN in 1969
• Davy Jones performing "Someday Man" from the 1969 TV special MUSIC BAG, unseen since its original airing
• Newly restored color promo film for "Oh My My"
This collection is strictly limited to 10,000 individually numbered boxes and once those are sold out, this edition and bonus disc will never be available again.
---
Click on either box image to order directly from Monkees.com!
Description Of Site Contents

HERE COME THE MONKEES: The Original 1965 Pilot Episode

All you need to know about the original, unaired pilot for The Monkees television series, filmed in 1965 by Screen Gems as a means to sell the product to both TV networks and sponsors.

THE MONKEES (NBC, 1966-1968)

Once known as The VITAL STATISTICS & CREDITS Page, the decision has been made to merge it with the links to both The Monkees First and Second Season Episode Indices and convert it into a page dedicated to The Monkees television series itself. It includes a complete network and syndication history, Nielsen ratings, commercial sponsors, castmembers, Emmy awards and nominations, AND, included for the first time anywhere, a compleet and full slate of production credits, which covers both seasons!!!

As aforementioned, it has links to charts listing all 32 shows from The Monkees television series' sensational Emmy-winning first season and the 26 episodes from the surrealistic second (and final) season. Each episode is linked to a corresponding individual page, which includes a HQ screenshot of a pivotal scene from the episode (captured from DVDs) with extra original episode-specific color/B&W publicity stills sprinkled throughout, original airdates, writers, directors and production crew, guest stars, episode songs, a listing of each and every home video release it has ever had (on Beta, VHS, laserdisc, DVD and Blu-Ray), compleet and detailed synopses, production, trivia and Guest Cast notes, filming locations and dates, original commercials which aired, coinciding Colgems album/single release dates, A.C. Nielsen ratings/share, and wherever applicable, production numbers and copyright registration numbers! Included is a list of all the preemptions and repeats and links to episode interview transcripts.

HEAD (COLUMBIA, 1968)

The entire dope on The Monkees' sole motion picture outing! Includes a complete slate of cast & crewmembers, shooting and premiere dates, a compleet synopsis of the whole movie, and Supporting Cast, trivia and production notes!

THE TV SPECIALS

Incudes everything on both of The Monkees' television specials: 1969's 33⅓ Revolutions Per Monkee and 1997's Hey Hey It's The Monkees (a.k.a. "A Lizard Sunning Itself On A Rock")!

MONKEE VIDEOS

A detailed history of The Monkees film & TV releases on home video, on VHS, laserdisc and digital video disc (DVD), from 1986 to current!

THE COMMERCIALS

Transcripts of original broadcast commercial sponsor tags of The Monkees hawking Kellogg's Rice Krispies Cereal, Kool-Aid Soft Drink Mix, and Yardley Black Label Aftershave! Includes a link to a page bearing lyrics to all of the jingles and WAV files to the commercials and jingles, and also a transcript of the 1995 Pizza Hut Commercial featuring Ringo Starr!

SELECTED BIBLIOGRAPHY / ACKNOWLEDGEMENTS

A number of literary Monkees sources employed by the author in crafting this very webpage. Also included is a list bearing thanks to those who assisted me in making said page the page it is today.

SATURDAY AFTERNOON REPEATS

A compleet chronological listing of all 58 Monkees shows as originally seen on CBS and ABC Saturday Afternoons!

MONKEES LINKS

A listing of links to other Monkee pages, divided in 3 columns (offical, film/TV and music/group-oriented Monkees pages).

AWARDS BESTOWED UPON THE MF&TVV
The awards of which The Monkees Film & TV Vault is a proud recipient.
ORIGIN OF THE MF&TVV

My personal account on how The Monkees Film & TV Vault came to be.

ONSCREEN CAPTIONS

A guide listing all of the humorous captions which flashed on screen in several episodes of The Monkees.

DREAM SEQUENCES, DISGUISES & QUICKCHANGE COSTUME PLAY

A guide listing who did what, what they wore, and what happened in the many hilarious fanstasy sequences in various Monkees segments.

THE MONKEES GO APE FOR BATMAN

Varous cross references to the 1966-68 ABC-TV Batman series (and beyond) on The Monkees.

MONKEES THEMES & PROMOS

Includes WAV files of themes, original promos and trailers, and commercials for The Monkees' film & TV projects.

THE MONKEES ON UK TV

A listing of episodes of The Monkees TV series as shown in The United Kingdom on BBC1 and BBC2 from December 1966 to June 1968.

MONKEES EPISODE PRODUCTION NUMBERS

An appendix (partially in text) of all 58 episodes of The Monkees TV series arranged in chronological production numerical order.

MONKEES EPISODE INTERVIEWS

A listing of transcripts of all 12 original interview segments as seen on The Monkees' TV show, as well as transcripts of David, Michael and Micky's guests from March 1968. (Adapted from Monkees Pad)

THE MF&TVV BLOG

For the latest Monkees news and MF&TVV updates, be sure to check it out!

THE MONKEES FILM & TV VAULT'S SILVER CELEBRATION

This site celebrated a huge birthday on Monkee Monday, October 24, 2022: its 25th Anniversary on The World Wide Web! To celebrate, this link was added, providing a nice, detailed trip down MF&TVV Memory Lane, owing a great deal to the ORIGIN OF THE MF&TVV page, but with much more thoroughness. Now, it recieves a permanent spot as part of this very list of Site Contents, for posterity.

Click HERE And HERE To Check For Annual Updates!
A direct hookup with links to the lyrics of ALL the featured songs on the following webpages:


MONKEES SONG LYRICS (The Monkees Homepage!)
Jackie L. Wilson's List Of Lyrics to Songs in 33⅓ Revolutions Per Monkee (Internet Archives)
Sunny Girlfriend's lyrics page
Whatever your Monkee needs, discuss it in The Monkees Film & TV Vault Message Board!
Now powered by Tapatalk!

GROUPS, LINKS, DISCLAIMER, ETC.



This page was established Friday, October 24, 1997, and last

Pleasant Valley Sunday, January 29, 2023.


Concieved, edited, researched, cross-checked and written by Aaron Handy III.
Many pictures used within The Monkees Film & TV Vault originally appeared on eBay.
This site is best viewed using the most current version of Google Chrome, and enhanced with
the fonts Franklin Gothic Condensed, Franklin Gothic Medium, Franklin Gothic Book, Cooper Black and HP-Hobo.

The Monkees is a registered trademark of and copyrighted by The Rhino Entertainment Company. No copyright infringement is intended by their use on this page. I and this page are in no way affiliated with, approved of or endorsed by The Rhino Entertainment Company. This page is created by a Monkeefan for other Monkeefans out of love and respect, and is strictly a non-profit endeavor intended for entertainment and TV research only; the images and sounds used on this website are believed to be in the public domain or fall within the boundaries of the US Supreme Court's Fair Use Act (US Code, Title 17, Chapter 1, Section 107).
Comments? Suggestions? Corrections? Contributions? Get in touch with me!
Your input is greatly appreciated!


Back To The Aaron Handy III TV Web Shrine